#1-Rated Healthy Snack of 2018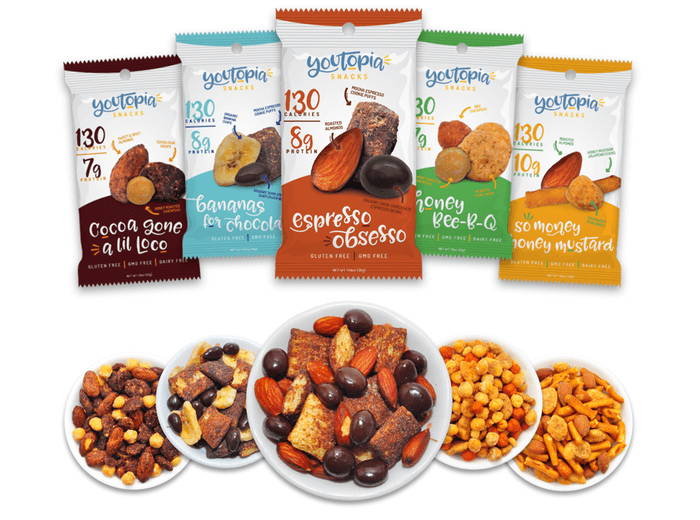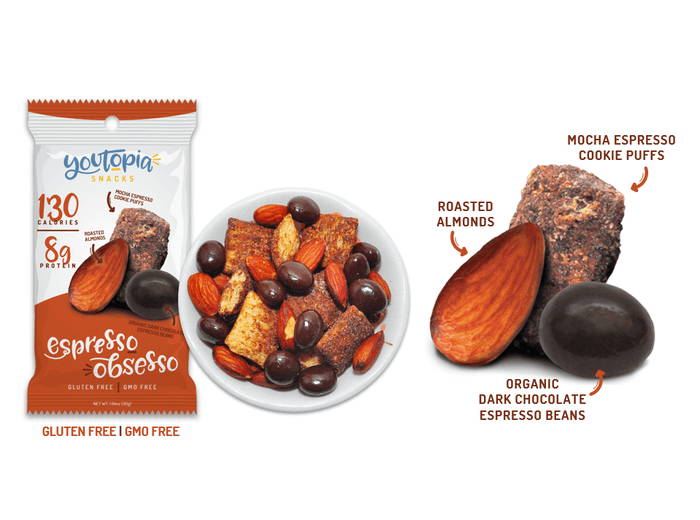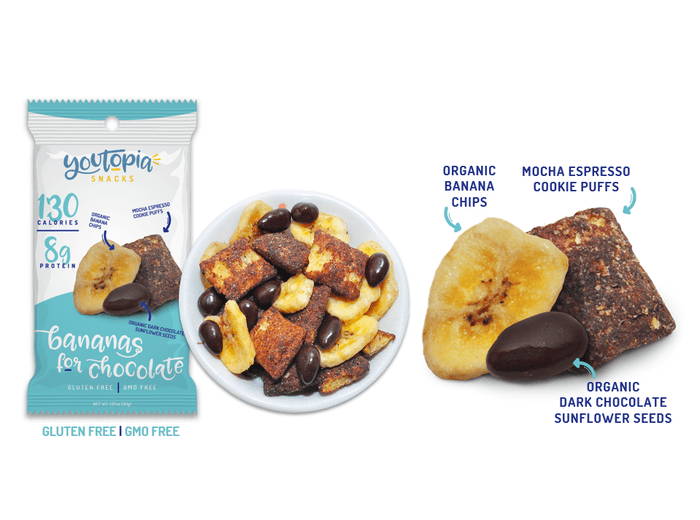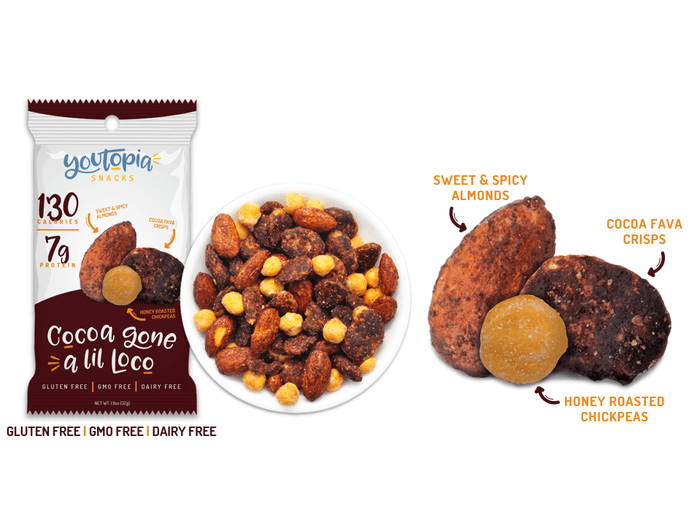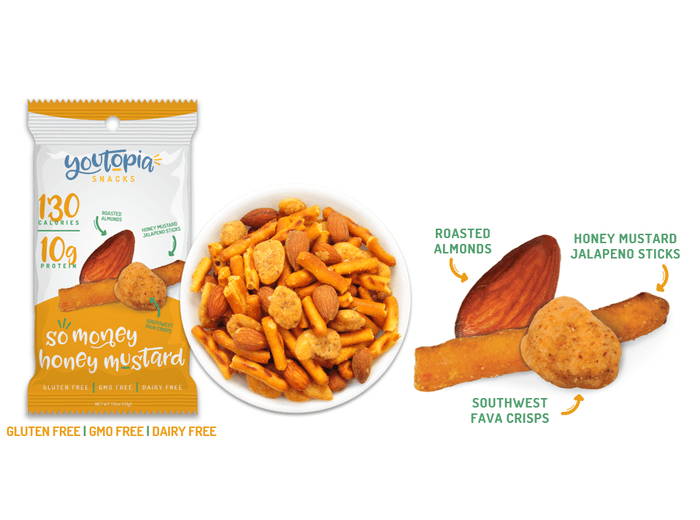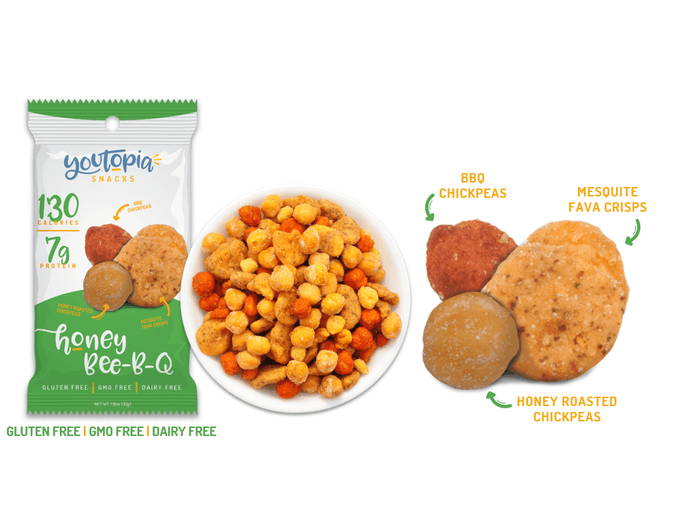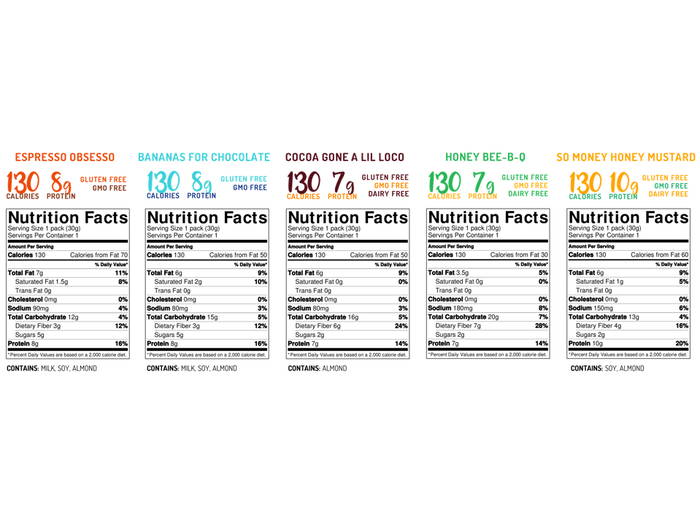 Youtopia Snacks Delicious 130-Calorie Healthy Snack Packs
High-protein | Low-sugar | Gluten-free | Non-GMO

- Get the full line-up of snacks with our Variety Pack! 10-Pack snack box includes: Espresso Obsesso (x2), Bananas for Chocolate (x2), Cocoa Gone A Lil Loco (x2), Honey Bee-B-Q (x2), So Money Honey Mustard (x2)
- The perfectly light, low calorie snack at just 130 calories
- High protein | Low sugar | Low calorie | Gluten-free | Non GMO
- Perfectly portion-controlled to avoid over-snacking
- #1-rated Best Healthy Snack of 2018 (by Eat.Breathe.Sweat.) with delicious mixes of cookie protein puffs, almonds, fava crisps, protein pretzels, roasted chickpeas, dark chocolate goodies, & other delicious ingredients
HEALTH & FITNESS CELEBS AND GURUS ARE TAKING NOTICE :)
Lisa Lillien (aka Hungry Girl)
Our motto is "guilt-free goodness," meaning all our delicious, healthy snacks are:
Portion-controlled at 130 calories to avoid unintentionally over-snacking
Irresistibly delicious :)
Our story began on a quest to find the perfect healthy snack. Tired of protein & granola bars, we set out to create something better: a perfectly light, healthy, UN-bar.
We wanted something lighter than a 250-calorie protein bar, healthier than sugar-filled granola bars & trail mix, & more filling than boring 100-calorie packs of mixed nuts and chips.
We also needed to satisfy our sweet-tooth: something as indulgent as the unhealthy treats we know we shouldn't have, but without the guilt!
We explored every nook and cranny to find the highest quality, tastiest ingredients that are high in protein & fiber, low in sugar & refined carbs, GMO free, gluten free, & most importantly... outrageously delicious!
Our goal with our snacks is to inspire smiles while snacking, whether on a hike through the mountains, or taking a breather from mountains of emails... wherever you go, take us along to create your personal Youtopia :)
Note: Popular Weight Watchers snacks
Though made for all... adults, kids, college students, anybody... we've been told our individual snack packs are great for Weight Watchers and have calculated Smart Points:
- 3 points: So Money Honey Mustard
- 4 points: All others
Amazon customers are raving!
(Actual reviews, direct from Amazon)
Flavor: Variety Pack | Size: 10 Pack | Verified Purchase
Yum. Just yum. These are super good and a bit addictive. I won't argue the fact that they may be slightly pricey, but it's incredibly hard to find a tasty snack in the 100 calorie range with a decent amount of protein. Trust me I've tried. It's either 200 calorie stuff for fitness folks with 10 g of protein, or 100 calorie stuff for weigh loss folks with 2 or 3 g of protein. Finding something near to 100 calories with 8+ g of protein seems to be a real niche market, and then finding a snack that tastes good, too boot! I'm excited. I'm addicted to the coco loco, so, so good!
Going to be buying more of these. ( view review )


My new favorite snacks on Amazon
Flavor: Variety Pack | Size: 10 Pack | Verified Purchase
Lovvvved the banana and chocolate sunflower seed combination! Will be ordering more as soon as I finish the variety pack. Delicious healthy snacking alternative for someone who normally sneaks off to the vending machine for M&Ms or cookies! Great pick me up when the workday starts to drag - very pleased ( view review )


Snacking success for our office!
Flavor: Variety Pack | Size: 10 Pack | Verified Purchase
These were a great treat for our office. They were gone after a few days and sparked a lot of conversation. Our employees loved the guilt free but still indulgent taste of these snacks and the variety pack contained a little savory, some sweet, and chocolate. I hope the company considers joining Amazon's Subscribe and Save program because I would love to have an automatic shipment of these every month to our office. I also love supporting a small company that's trying to make snacking healthier - a cause I don't mind paying a little extra for!

The chickpeas they use are so light and crispy almost like cheese puff consistency. I've never tasted chickpea snacks like these. I love all the clever names and how the espresso obsesso contains real chocolate covered espresso beans. The packaging is informative and high end but no so much that you feel guilty throwing it away after a 130 calorie snack :) I felt like a got some good quality calories and protein as an afternoon snack that kept me full until dinner. ( view review )


Flavor: Variety Pack | Size: 10 Pack | Verified Purchase
This product is great! Just like the description says, "guilt-free goodness." This is a nice alternative to regular bar style snacks because c'mon, that can get kind of dull (Don't even get me started on trail mixes.) These snacks are definitely healthier than most snacks that advertise themselves as "healthy."
Anyway... I bought the variety pack because I generally like to try various flavors to see which one I like the most. I personally think that bananas for chocolate and cocoa gone a lil loco are the best ones. The banana/chocolate combination has a nice balancing taste because it has a nice blend of sweetness from the banana with the bitterness of the dark chocolate sunflower seed. I enjoy some spice in my life, so the cocoa gone a lil loco is an awesome flavor for me because that hint of spiciness from the almonds is a delicious treat that wants me craving more.
I would definitely recommend this to anyone who would want a healthy snack for any occasion. ( view review )


Flavor: Variety Pack | Size: 10 Pack | Verified Purchase
I ordered the variety pack, and so far I have only tried the "Bananas for Chocolate," flavor, but I'm confidant the rest will be just as delicious. The ingredients and packaging are high quality, which makes these a fun snack to eat. I loved the texture of the cookie puffs. They are light and crispy, and also not too sweet, which I appreciated. The serving size was perfect for an afternoon snack, and the different flavors can satisfy any craving.
The packaging is nice and sturdy, which makes me think they will survive a trip in my bag and make a perfect on-the-go snack, as well! ( view review )
Please follow all 4 steps.
Enter your email below for the promo code.
Search "healthy snacks" on Amazon (Important!).

Click our product after searching "healthy snacks"
(may be found on page 2 or 3)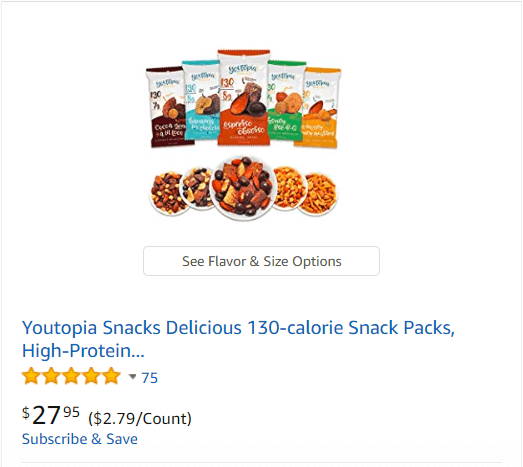 (valid on Variety 10-Pack)